What Is The T-JTA®?
The T-JTA ® is a brief psychological assessment that measures key personality traits which influence personal, interpersonal, scholastic, and vocational functioning and adjustment. It serves as both a diagnostic measure and in-session counseling tool. The brief 180-question test can be administered in 30 minutes or less to individuals, couples or groups. The T-JTA is applicable for use with adolescents through senior adults.
The T-JTA measures 9 personality traits and their opposites:
Nervous ↔ Composed
Subjective ↔ Objective
Expressive-Responsive ↔ Inhibited
Depressive ↔ Light-Hearted
Dominant ↔ Submissive
Sympathetic ↔ Indifferent
Active-Social ↔ Quiet
Hostile ↔ Tolerant
Self-disciplined ↔ Impulsive
How is it Beneficial?
The T-JTA will allow you to work more efficiently and effectively with your clients. You will quickly discover their strengths and understand their needs for more successful interventions. While being a useful diagnostic measure, the T-JTA Profile is simultaneously helpful to clients as an in-session diagram that is easy to understand. The T-JTA acts as a springboard, launching productive conversations and bringing to light issues that your clients may not be aware of or able to articulate. For couples, the T-JTA helps partners to better understand each other and improve their relationship skills, allowing current problems to be addressed and future conflicts prevented.
View Sample Profile
How is it Used?
The T-JTA is commonly utilized in premarital, marital and family counseling due to its unique "Criss-Cross" testing feature, which graphically illustrates how people within a relationship view themselves and one another. The T-JTA is equally well-suited for individual assessment within a variety of counseling applications. Hover your mouse over the circles below to learn all the ways the T-JTA is used by professional counselors.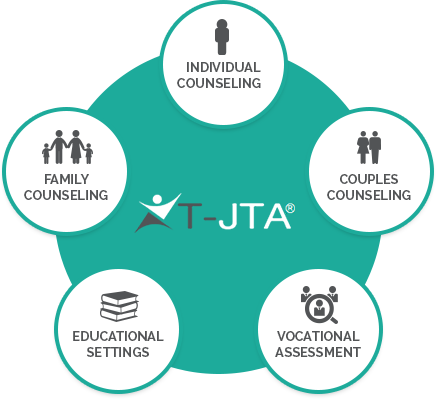 How is it Administered?
The T-JTA can be administered completely online. Simply purchase the T-JTA Online Scoring Starter Kit and direct your clients to our testing website. That's it! Your finished T-JTA results will appear in your mailbox within one business day of test completion. For counselors who prefer paper-and-pencil administration, the T-JTA can be taken offline using Question Booklets and Answer Sheets. A T-JTA Mail-in/Fax-in scoring service is also available.
Is it Valid and Reliable?
The T-JTA is a scientifically-based psychological assessment with high levels of validity, reliability, stability and consistency. Backed by over 50 years of normative data, the T-JTA is frequently restandardized and updated through continuing research. The T-JTA is highly correlated with the MMPI and 16-PF, two of the most widely used and respected psychological tests.
View Validity Information
What Does it Cost?
Pricing starts at $20.00 for an individual T-JTA Profile and $45.50 for a complete set of Criss-Cross Profiles. Supplementary reports and handouts are available for an additional cost. Please see the chart below for complete pricing details:
| Output Type | Self Test | Criss-Cross* |
| --- | --- | --- |
| Scoring & Profile Only | $20.00 | $45.50 |
| Scoring & Profile Plus Brief Report | $26.50 | $63.50 |
| Scoring & Profile Plus Interpretive Report | $45.50 | $92.50 |
| Add Report Sheet | $5.00 | $20.00 |
| Add Report Booklet | $5.00 | $20.00 |
| Add Trait Suggestion Sheets | $11.00 Flat Fee | $22.00 Flat Fee |
*Cost is total per "couple" (not per-person)
View Samples